A WEEK AGO, I was at Illuxcon IX in Reading, PA. This week, I am back home in Tucson but my mind, my heart, and whatever passes for my artistic soul lingers behind. No other event is quite like this one; at least, not in my experience. This post will be more than a "con report" (or at least, that is my intent) but let's see what I can cover.
OMG THE ART
Two thousand works of art of "imaginative realism" by some of the most revered, respected, laureled, and accomplished names in the business. Donato Giancola. Michael Whelan. Greg Hildebrandt. Don Maitz. Stephanie Law. Tom Kidd. Patrick Jones. Winona Nelson. Some are names you don't know. Other names you should know, or learn, like Matthew Stewart and Annie Stegg and Chris Seaman. [Not all artists maintain personal websites, to explain some lack of links.]
There were sculptors too, like Thomas Kuebler who created one of the show's iconic images ("Medusa") which I found unsettling every time I entered the Goggleworks building. Or Kristine and Colin Pool, whose "Hot Diggety Dog," always tastefully photographed in publicity shots, is wonderfully well-executed and quite NSFW.

Folk I knew from my early gaming days had art on display, showing robust skill and vision that you might have underestimated 20 or 30 years ago. Or not — they were remarkable and recognized even then. Jeff Easley was there, and Rob Alexander and April Lee and Mark Poole and Tom Baxa and Jeff Menges.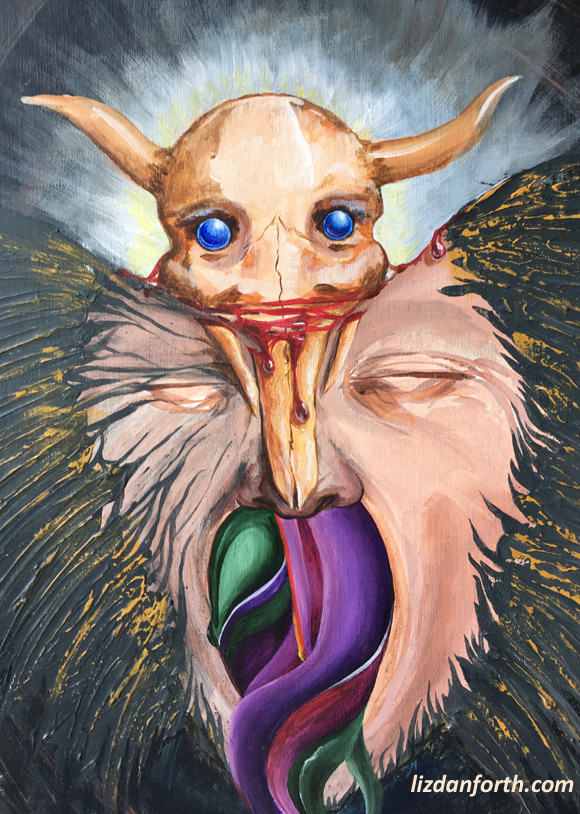 The galleries overflowed with works of excruciating photorealism, graphical designy works, and gestural surrealism approaching non-figurative abstraction. Some works seethed with violence, some were gentle as gossamer, and there was everything between. Dave Seeley, an exceptional artist in his own right, shared 197 photographs of the three floors of the show. Click over, and then imagine what it was like to be there in person.
As I walked among these works, my emotions spanned a dozen dimensions: awe, amazement, delight, horror, respect, heartache, love, affirmation, envy, laughter, occasionally shock. Often, I drowned in a depressive despair spawned of extreme feelings of inadequacy.
THE KINDNESS OF FRIENDS
This show was the first place I've ever taken a cane with me to help walking around. I spent decades as a runner in an effort to battle my weight, eventually pounding a rotten ankle to scar tissue and arthritic flinders. The other leg has a bad knee. Walking a few blocks or standing for a time is no longer easy any more.
I thought the cane would help. It did, but not enough. Friends and fans took up the slack.
Foremost, Tina and Jason Rak really stepped up to the plate. I first met them on a Magic tour in 1995, and Jason has never lost his deer-in-the-headlights expression around artists. They even took it with good humor when we lost our collective minds searching my Showcase booth for a painting we were certain was there, but which was nowhere to be found. (We had been looking at pictures of my work on Tina's phone earlier, and somehow this translated to "I know I saw it here today!" It was, in fact, back home.)
I crossed paths with Josh Newberry early in the show, and he and his companions checked in with me early and often. Tony Manion saved my bacon by giving me a satchel in place of the one I'd forgotten to pack. At the end of the show, Seth Polansky, Kelley Slagle (the director responsible for the oh-ghawds-go-see-it-naow film Of Dice and Men), and Brian Stillman toted boxes of my unsold art up to their hotel room, and over to the Goggleworks for shipping the next day.
I literally could not have managed it alone, and I am deeply grateful to all these people. Next year, I need to make better plans. I'd rather just hang out to enjoy the company and companionship of such friends, and not impose! (But thank you again anyway, all of you.)