I AM A FREELANCER handling art, editing, writing, and project development. Very often, I get asked about whether I sign cards by mail. (updated 5 May 2021)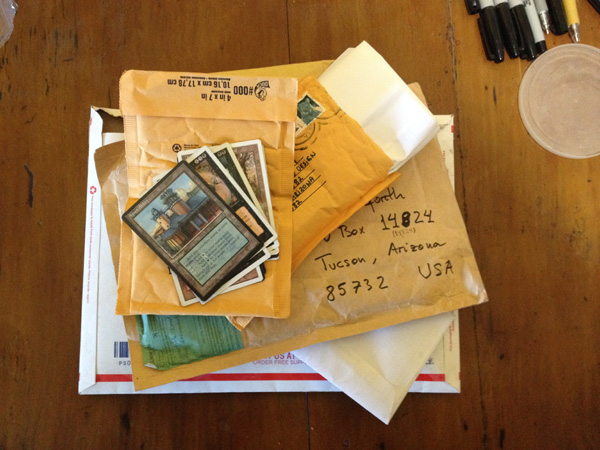 Do you sign cards by mail?
Yes but with this caveat: you may have to wait for me to get to it. Signing cards is not a high priority and I do it when I can. Sometimes (often) this means months go by before I get around to it.
I'm perfectly willing to stay in touch, and you can send me an email nudge when you're getting concerned, but please don't ask me to sign cards if you cannot be patient.
You must arrange to pay return postage in advance. Clients in the US can include a self-addressed stamped envelope. People overseas have gotten American bills from their banks, and tucked the money in among the cards; or they have sent checks in the mail, sent money by PayPal, or have made some other arrangement. For a large signing (over $100 value), I can send you an invoice via Square.
What do you charge to sign cards?
I am presently asking $2 per regular signature, $3 per shadow sig. You can request specific colors, if you like.
Some people will resell the cards, and some people are truly just fans looking for something cool to put in their playdeck. Either way, it does take my time away from making new works which is where my focus is.
Where do I send my cards?
Please use this address: Liz Danforth, PO Box 14824, Tucson AZ 85732 USA.
I would appreciate an email to let me know they are coming and to watch for them, since I do not check my PO Box daily. (You can reach me via [liz AT lizdanforth dot com].)
Do you have whiteback artist proofs from Magic?
Yes, but I am out of many popular cards (including Hymn to Tourach, which I am asked for most).
My prices are $10 each for most English-language cards; $8 each for non-English cards. A few cards I am about to run out of — those will be $15-25 per card. Let me know what card(s) you are interested in, and I'll let you know if I have what you want. You can find my complete card list here.
A signature on the cards you buy is included in the price. Postage to mail them to you is NOT included.
If you want a drawing or painting done on the back, see the prices below for a guide.
Do you alter or enhance cards by mail?
FOR RIGHT NOW (5 May 2021) card alterations and sketches are temporarily ON HOLD. I have too many in my backlog right now, and I do not want to take new commissions when I am not sure when I will be able to do what you want.
If you are still interested, get back to me around mid-September 2021, and I will let you know if I can take new card alterations at that time. Or… watch this space. If I get clear sooner, I will update this page.
Generally speaking: I will do alters and sketches. I will ask you to pay for even a small sketch. Pieces that are more complex cost more, depending on what you ask for. I will post more examples below as I can, but this will give you a rough idea of where to start.
Occasionally I am asked to sketch on blank-front cards, APs, or index cards. These are commissions like any other, and will be charged for accordingly.
These are my current prices, with examples:
(A) A simple pen sketch or alteration: $20-45
(B) A moderately simple-or-complex alteration (pens, paint-pens, or paint) entirely or mostly within the picture box: $45-120.
(C) An extensive card alteration, in paint, filling most or all of the card face: usually $85-200.
(D) Multicard sets can run up around $500.
I have come to enjoy doing these, and they make a nice break sometimes. But I work slowly, and have to balance projects like these against bigger and newer images that excite me, challenge me, and that might become your next favorite Danforth drawing, painting, or story.
If your request is a novel idea to me, or intriguing for some reason, you might get a bargain on the price. Give me a little input into the designs (like the Merchant Scrolls above), and I'll give you more for your money because it lets me have some of the fun. 🙂
More questions?
Email me via [liz AT lizdanforth dot com].