Introduction
Liz Danforth is best known for her art and illustrations, primarily created for the games industry. Her most visible work at present is for the card game Sorcery: Contested Realm, which raised over $4,000,000(US) on Kickstarter. Her card art appears in the game, on one of the exclusive two-player playmats, and will be used in the packaging as well. Those interested in purchasing originals or prints, see below.

Liz also writes fiction and game material, edits the work of others, and worked as the lead illustrator and co-creator for the Deluxe Edition of the second-oldest role-playing game, Tunnels & Trolls. In the last few years, her work appeared in the reboot of Steve Jackson's Fantasy Trip, Old School Monsters, and related projects.
Since 1978, Liz has worked steadily as an artist, writer, editor, and/or game developer on role-playing games, card games, and board games. She has been a writer and scenario designer for computer and video games. Her credits include work for licensed Middle Earth and Star Trek projects, Wasteland, and work on more than a dozen different collectible card games. She was one of the original artists for Magic the Gathering, creating art for about three dozen of the early cards. She has created maps and illustrations which appear in mainstream and fantasy novels and anthologies. She was inducted into the Academy of Gaming Arts and Design's Hall of Fame (1995).
She continues to freelance in art, writing, and game design from her home in Tucson, Arizona.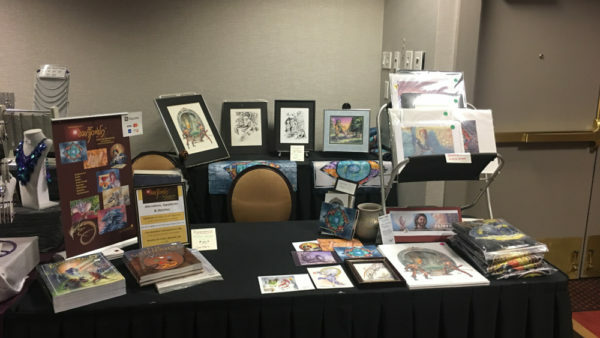 I will be glad to sign your cards (Magic, Middle Earth, or any of the others), discuss possible commissions, (although new commissions are mostly on hold for now), or you can find out where to follow me on social media or where to drop me a line (via mailing address or email).
I am getting many inquiries about the paintings done for Sorcery, especially the "Mirror Realm" original. At this time, neither it nor my other paintings are for sale. If and when that changes, I will notify you if you first email me and ask to be put on the list.
I have made reproductions of much of my art, including "Mirror Realm" for Sorcery and "Hymn to Tourach" for Magic. Signed limited edition prints, playmats, postcards, and canvas prints are available. Please email me for prices and availability.
---
Igniting the Spark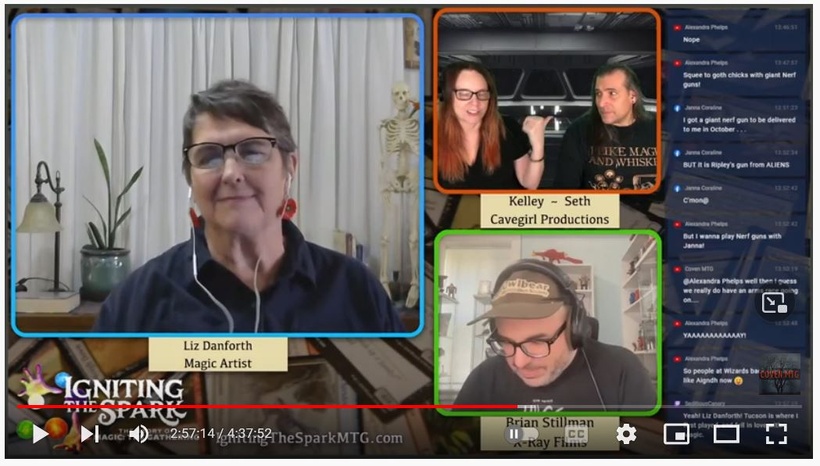 Magic changed the game industry. It surely changed the course of my career.
Cavegirl Productions and X-Ray Films are producing a feature-length documentary about Magic, as a game that changed the world in its own unexpected and thoroughly amazing way. Cavegirl founder Kelley Slagle, with husband Seth Polansky, and cinematographer Brian Stillman have been taking interviews, doing the deep dives on the early history of Magic, and the people who were there when it all began some 30 years ago.
Seth and Brian interviewed me for the film earlier this year, and today they launched their Kickstarter to raise funds for post-production work. As I write, they're over $17,000 of the way, after only half a day.
---
Patreon Is My New Normal

On Patreon, you will find "Liz Danforth is Making Mages and Sages." This is the platform where I am most active. For three years now, I have posted multiple times a month. In addition, I run weekly live meetups, either a short social chat on topics de la mode, or longer co-working sessions where we all buckle down to some postponed task or creative endeavor that might benefit from companionship and/or accountability.
In my Patreon posts, I show sketches and art (old and new), write about works in progress, or about my travels (when I am able to travel, anyway), my working process, creative endeavors, and general musings. Some posts are open to the public, or they come open after my paying supporters get a first look. Supporters also get deep dives that only they can read. Sometimes I make special offers or give people an early option at buying my work.