IN A FEW hours I will be attending Pima County Library's MangaMania!! where they are preparing for attendance by 1000 teens interested in all things anime and manga. I'm one of several professional artists appearing there to show our stuff, talk to teens about art and maybe about freelancing, and honestly I don't know what all.
I'm really looking forward to it but I am not at all sure what I've gotten myself into either. I don't do anime-style art, after all. I like some artwork in that style, but it's not my style. So I'm hoping things will go well anyway (which is honestly what I expect). I'm bringing not just my drawings but also game books and novels my work appears in. Maybe some of the attendees will think Magic: the Gathering is cool, or they will have read Tolkien somewhere along the line.
I WISH I COULD DRAW LIKE THAT
Dollars to donuts, I'm going to hear this at some point tonight. I hear it (or its variation "I can only draw stick figures") at every signing or art-related event I go to.
I'm going to be ready for it this time. I am bringing pictures I drew when *I* was a teenager.
They aren't the finished, polished pieces people expect from a professional artist. They're the earnest, school-paper doodles of someone who loved drawing and took every opportunity to do so.
Proportions are wrong, there's no light-direction, shadows are just scribbles around the edges. They look like every school kid's scrawl — and that is my point.
I got this idea from Donato Giancola, years ago, when he attended a library function I helped arrange up in Phoenix. His point then, and my point now, is to explain that our artwork was no different at the start than anyone else's. His little D&D stickmen or my Greek hoplite are completely unremarkable. We practiced, we trained, we put in time for year after year. His ability far surpasses mine, yes, but we all started from the same spot.
And the kid (or the adult) who looks at my finished pieces, the end result of all that time and practice, who says "I wish I could draw like that" … they can. I firmly believe that. All they need is time and practice.
PRINTS FOR SALE
The MangaMania event gave me a good excuse to sit down and load a few of my prints into the gallery here. I won't be selling prints at the event itself, so if someone wants to buy a print of my artwork they'll have to come here for it.
I've been planning to make a "sales cart" for this site for … well, a very very long time. That's not happening today. What I do have right now is another Gallery with just a few of my more popular images loaded up. Check out the new Print Gallery right here!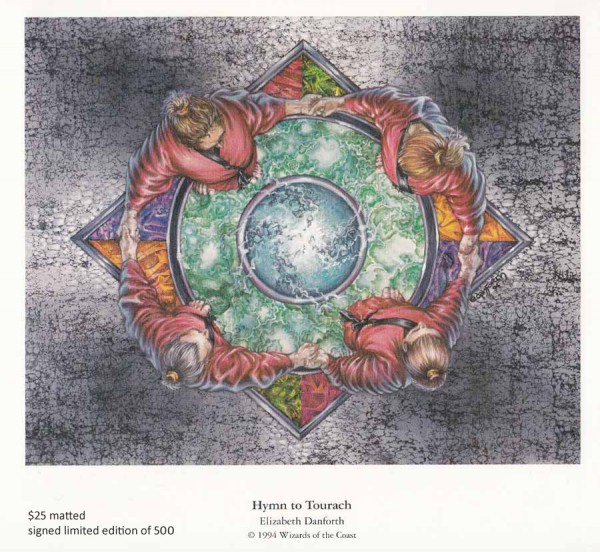 MORE TO COME
I have a lot more prints available than this, but three things are stopping me from getting them loaded up right now.
ONE: I need to do more scanning of the prints I have.
This is just time-consuming. (See item 3, below.)
TWO: I need to hunt down where all my prints are located.
Um, yeah. Bad business, eh wot!?
When I moved into this house several years ago, a lot of things got boxed up, bundled up, and/or buried. I have my book of samples and am certain none of these print runs have sold out, but I can't lay hands on all of them. No sense offering them for sale if I can't find copies to ship out!
I keep digging. Every so often I unearth the most interesting things…
THREE: Look at the start of this post. "In a few hours, I will be attending…"
I started writing this a little while ago. Now, it's time to hop in the shower and head over there! More gallery uploads will follow another time.
Meanwhile, I feel obliged to end this post with "The answer is 'Purple, because aliens don't wear hats."
(Don't ask.)