I do a variety of artwork and illustration, and I sometimes get time to experiment. Have a look around and see some of what I've done.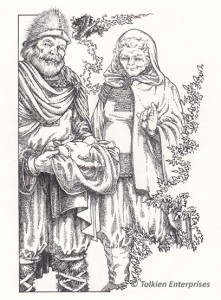 Gaming Industry
This is all work created for publication in the role playing and scenario books, the collectible card games, and other game-related books and products put out by the many publishers I've worked for over the years.
Ceramics & Mosaics


I enjoy doing 3d work occasionally. Label it craft or art as you choose — for me, I just enjoy the change of pace from flat two-dimensional works. I'm not able to do much like this at this writing, but hope to return to more 3d works in the future. I particularly enjoy the mosaics which, for a time, I sold at fairs around Arizona.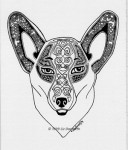 Dogs
I have Cardigan Welsh Corgis in my life, and have been frustrated by the lack of goodies made for this wonderful old breed. Too much "Cardigan art" is "Pembroke Welsh Corgi art on which somebody stuck a tail." Bah. Also not something I'm doing right now but I have plans to bring some of it back into print for the Cardigan Welsh Corgi Nationals when they come to my hometown in 2013.
Other Art and Sculpture
I occasionally do pieces just for the heck of it. Other times, I do commissioned work that just doesn't fit under the usual categories. You can have a look on this page.
A Card List
If you are looking for a simple list of what card art I have done — "collectible card games" and otherwise — you will find the list at the title link above. At this writing, I have contributed work to eighteen different collections over the course of around 30 years, a fact that surprises me as much as anyone. I intend to include links to some of the specific cards as work on this website continues.
Commissions
If you missed it under this new layout, this is the link to commission me for art, writing, or other project development.