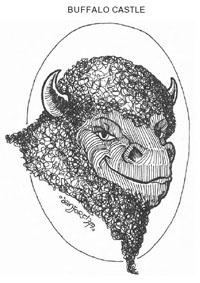 I HAVE BEEN a bit surprised by so many people stopping in to read about the Buffalo Castle artwork offer I made last week. It's been gratifying, and I am looking forward to starting this project soon.
Le Grog, an influential and amazingly extensive French-language "Roleplayer's Guide to the Galaxy," also repeated my offer in their news and announcements for the 24th of January, after Patrice alerted them about it. Since the art is going into a French edition of the game, it seemed only fitting!
(Seriously, if you can read French at all, the site is absolutely amazing. Aside from those pages offered with English translations — read their Mission statement — you can always use Google Translate to get the gist of things.)
SIGNING UP
If you recall, I offered to draw individuals into one of four specific illustrations, out of the twenty new Buffalo Castle pictures.


The original illustrations were nothing to write home about — that's why I'm re-doing them, after all. A surprised statue in the medusa's room, a sly leather-clad highwayman-bandit, a quavering coward, or big strong fighter are all options on the table. Make a choice — or let me choose! — and for $20 minimum bid, you can be immortalized in this edition. If you bid at least $45, you get the original art itself. I just need to hear from you by midnight, February 5th. Other stipulations are in the previous post.
Right off the bat, let me say "Thank You" to those who have already asked for one of the pictures.
All three of you.
*ahem*
I really do appreciate all the folks who said what a cool idea this was, but I honestly thought there would be a few more people asking for a spot.
Was my minimum asking price too high? Are the pictures too small? Does Buffalo Castle just not excite you? Do you think you'd not be able to compete against the dozens of other bidders? Well, if it's the latter, let me say there is at least one position to be had for minimal cost!
Since there is still time before the Feb 5th deadline, consider making me an offer. Yes, I am trying to raise some extra funds right now, and this seemed like a winning proposition for everyone interested. All you have to do is drop me an email: liz -at- lizdanforth -dot- com.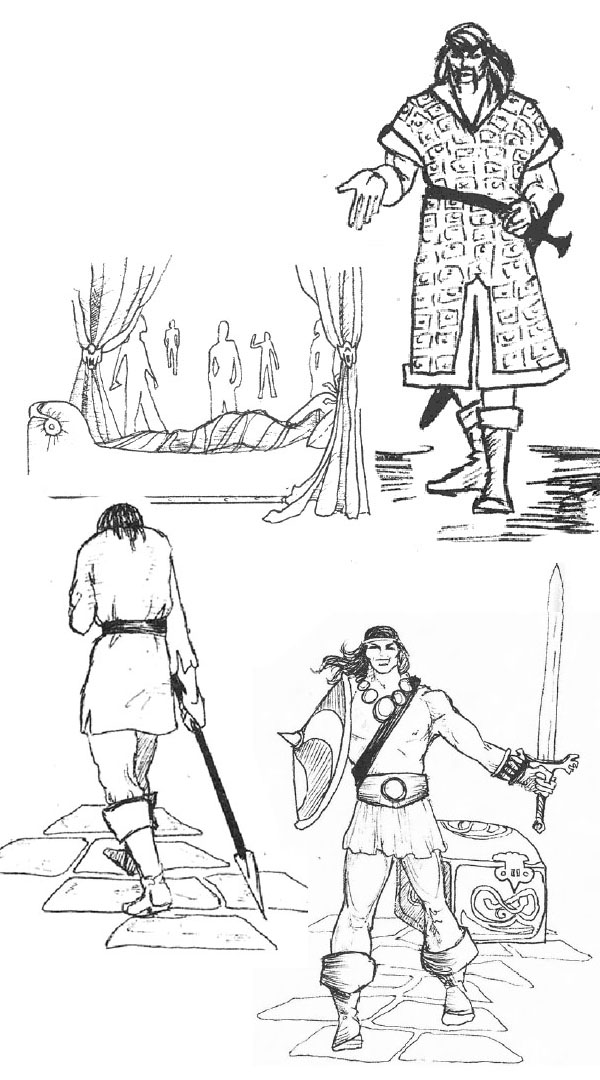 UPDATING THE INFO
I checked with both Rick Loomis (author of Buffalo Castle) and Patrice Geille (translator and publisher), and both are perfectly willing to adjust the wording in the solitaire to reflect the possibility of having a female character in the pictures that presently show (and speak of) a male character.
Moreover, Valentine's Day is coming. Might this not qualify as one of the geekiest presents evah for your boyfriend or girlfriend or spouse?
Several of us involved in the project are rather hoping to see the revised book brought out in English as well. That will be up to Flying Buffalo, though, but I'd really hope to see the new version made widely available (and from a legitimate publisher! Beware of knockoffs!).
I heard a rumor that there may even be some new or revised encounters in the solo. But you didn't hear that from me.
SWEETENING THE POT
Something that showed up on Ken St Andre's blog yesterday gave me another idea. He came across an old, old piece of mine, done back in 1977 when I was a precocious wee infant barely able to wield pen and pencil. He probably bought it at a convention art show back in the dawn of time. The piece is called the Peacock Fan, and it certainly counts as one of my earlier pieces of art out there.
It is inkwork with colored pencil. That's something I've done since, now and again, but am out of the habit of. Photoshop colorizing is faster, easier (for those skilled in the practice) and perfectly print-friendly but there is no colored original art, just a printout. For many, that's plenty. For some, that's not "an original" but just another kind of print and definitely not one of a kind.
I'm going to expand on my offer here: if you bid at least $65, I will hand-color the original drawing for you OR, if you prefer a bigger or more polished image, I will color one of the previously printed sheets of the Sky Lord or Sky Noble images I did for Namaste/Storybricks. (I am exceptionally proud of those two pieces.) Even on a print, the hand-coloring makes each picture one of a kind.
Of course, if you simply want to order a Sky Lord or Sky Noble colored print all by itself, I'll color you a print for $25 plus postage. I did one of these as a raffled give-away during GenCon — that's the picture below, shot with my phone under less than optimal conditions, but it will give you can idea of what you can expect. I'll include a copy of the Sky Lord below (in his B&W version) for you to consider as well.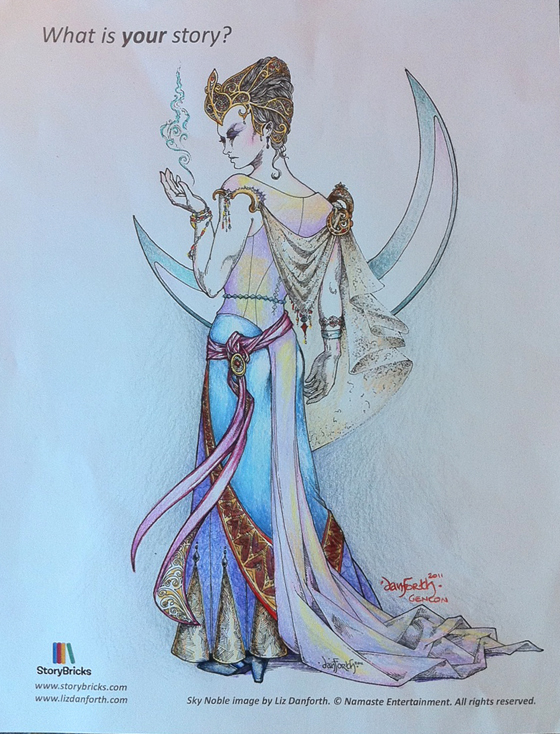 It's interesting to see the manifest similarities — and differences — between the art of 1977 and its echoes in the piece I did hardly a year ago.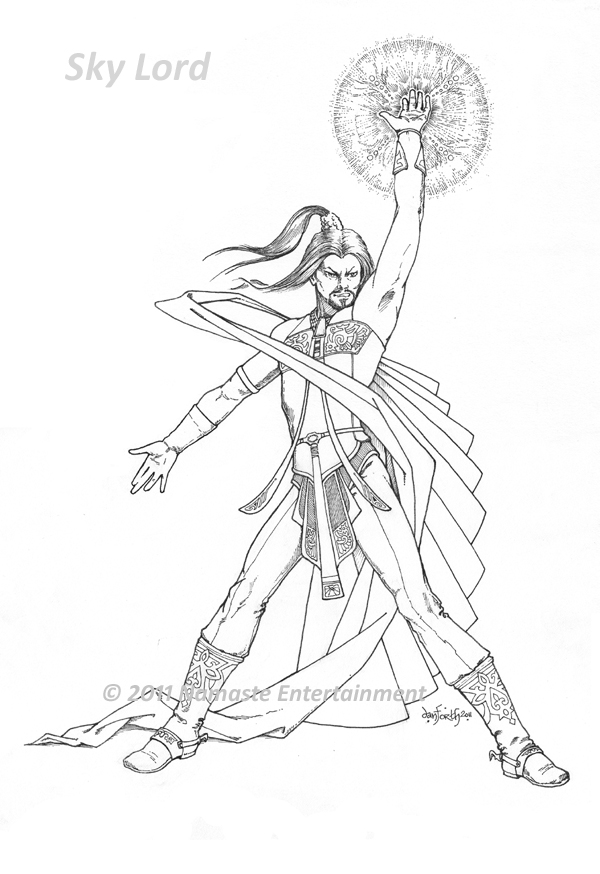 Does the idea appeal more now? Let me know what you think.