NOT SO LONG ago, I had a brainstorm. But before I tell you the time, let me build you the clock.
Quite a while back, Patrice Geille commissioned me to do some fresh illustrations for his new French translation of T&T, and I've shown a few samples here on the blog. Steve Crompton is presently laying it out and what I've seen so far looks downright awesome. I can read French, a bit, but even if I couldn't I would want a copy of this edition — I think it is just that cool.
In an email to me, Pat observed, perceptively, that the players will want adventures to play, so he's worked on new translations there too. He started with Buffalo Castle, which has always been the "starter solo" for T&T. However, he gently suggested that not all the art was quite the quality people expect today. (He did this in the most polite terms imaginable).
And he is absolutely right. I did the original illustrations for Buffalo Castle back in 1979. The glowering orc, in my previous post, is one of the pictures from that solo. That fellow doesn't look too bad, but some? *Shudder*. Was I really drawing with ballpoint pens? Some are cheesy, some are lame. Some are just… well, some seriously suck.

NEW COMMISSION
Both Pat and I want to bring all the pieces up to the quality of the better illos already there. He has commissioned me to redo about twenty illustrations to put into the new translation. (Whether the English-language edition gets revised hasn't been discussed.)
Two of the illos below are among those on the chopping block. The guy fighting the octopus has been deemed "good enough" (barely).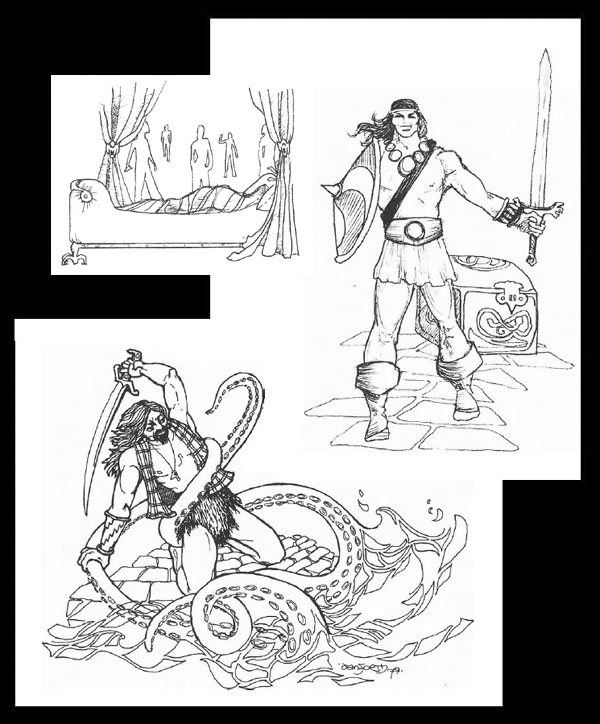 BACK TO THAT HALF-NAKED BODIES QUESTION
As I went through the art in the solo, I was amused to see that the Buffalo Castle illustrations feature more half-naked men than half-naked women. That Medusa is the only female example in this book. While I can't really defend the sexism of the flimsy clothing of the Medusa, at least the solo offers you the chance to "wake her up and talk to her" and not "sneak over and molest her." (Is that what you were thinking? Whatever gave you that idea?)
I won't even get into the whole "sex = death" morality either, a trope that is endlessly popular in Hollywood horror and many adventure movies. You only wanted to talk to her, right?
THIS IS THE GOOD PART
I know a lot of old-school T&T fans read this blog so…
…how would you like to appear in the new artwork for Buffalo Castle??
I have four pictures among those twenty that I'm willing to draw someone into. Some may appeal more than others. And I'm going to ask you to bid for the privilege because, really, it's easier to just draw whatever is in my head but mainly because "freelancer" is a synonym for "mercenary", and that's what we do. 🙂 It is also a consequence of the changing reality of today's Internet world, where simply making and selling one's work is no longer sufficient to make a comfortable living. We have to come up with interesting ways to offer different services, and I honestly hope you'll think it's cool, too!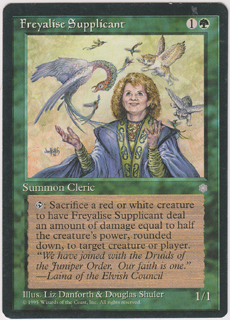 The last time I did such a thing, for a Magic the Gathering card called "Freyalise Supplicant, the piece was bid up to $1500. That was back in Magic's heyday, it was for a children's hospital charity, and it was a full-blown painting — not just a small ink illustration. I intend to tell the story of that painting one of these days in a Pictures Have Stories entry. It is a rich tale with its share of drama, a grand little convention, and the passing of a dear friend. But that's for another time.
HERE'S THE DEAL
Bid by emailing me directly: "liz–at–lizdanforth–dot–com". If you simply want me to work your picture into one of the illustrations described below, bid at least $20. If you want the original ink drawing when I'm finished, say so — and bid at least $45.
I will take the highest bid for any given image that I receive before midnight (MST) on February 5th 2012, if it meets my criteria. One of those is that the picture is of you, or if it is not of you that the person in the picture affirms to me their consent to being depicted in this illustration and for this use. All pictures must be of adults over the legal age of consent in their country of residence. I reserve the right to decline to accept a bid or picture. The publisher has final say on the inclusion of any illustration. If you purchase the original artwork, you are getting only the physical item with no transfer or licence of copyright, and no publication rights.
If you get outbid before the deadline for a particular image, I will email you to say so, in case you want to increase your bid — bidding early will be helpful. If you win, you will need to send me one or more photographs to work from. If I don't get your photos or scans by Monday, February 13th, you're outta luck and I go to the next lowest bidder who will have to respond immediately. I have a March 1st deadline for all the art, including these, so I need time to work on them.
Bear in mind that you're not getting a lot of picture here. These will be small pictures, maybe 20 square inches or so (4″ x 5″, depending on the piece). You do NOT have to pose like the original sketches. I'll modify my sketch to give you the best showing I can while still illustrating the scene.
THESE ARE THE PICTURES TO CHOOSE FROM
#1 — From the montage above, that big strong fighter with the sword and shield, with that chest behind him. The text says "he" so I need a man unless Patrice will edit the text after Rick Loomis (the author) says okay.
#2 — For the Medusa picture. I can take either a man or a woman — you'll be one of the stone statues.
#3 — From the montage below, the coward who refuses to fight. Not a sexy or heroic scene, but if you can give me an aggrieved, scared face, a photogenic "cower", then it could be fun in a T&T fun-silly way! Male or female.
#4 — The bandit in leather armor. Again, I need a man unless the text gets edited.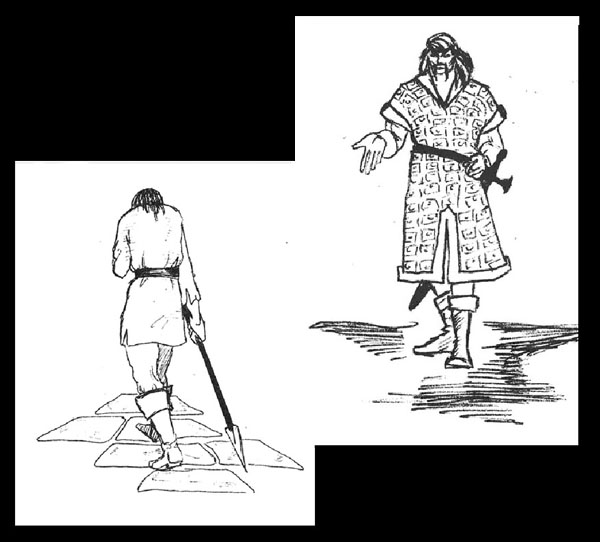 Do you like this idea? Would you like me to do more of this kind of thing? Let me know in the comments, and happy bidding. 🙂