I PLANNED TO close the auction of my two paintings a few days ago, but have been persuaded to keep it live a little longer. There was something about "Buy this painting or we'll kill a bunny." I'm not sure that "bunny" was actually the word there — the writing on the note was terrible.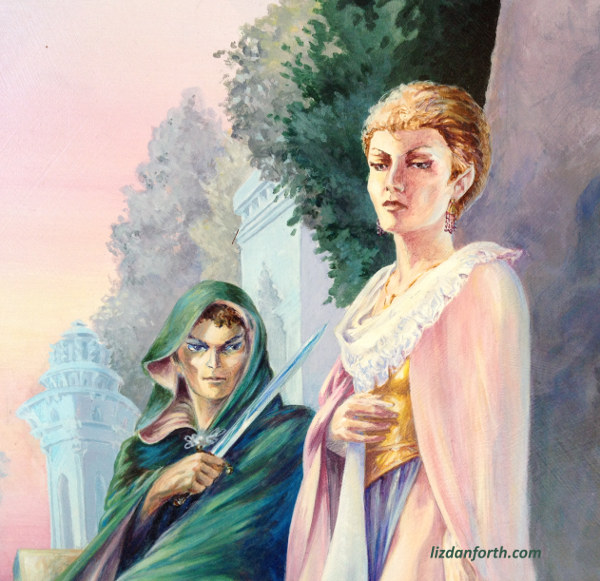 I chatted about the two paintings in a pair of posts just previous to this one: the Elven Lords painting and Two Seconds Later, the cover art I did for one of T&T's previous editions. And then I put them up for sale to the highest bidder.
Both paintings have been bid on. Elven Lords has a bid of $1000 and Two Seconds Later has a bid-to-beat of $511.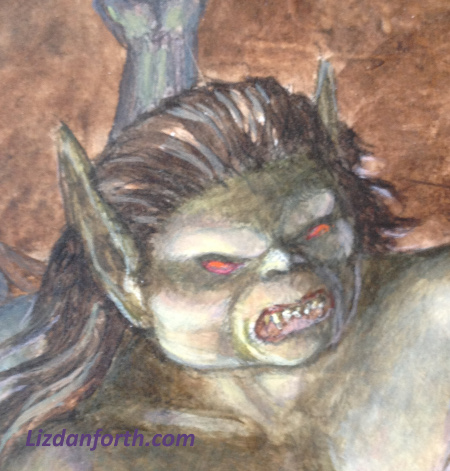 I admit that I thought each painting would have been competed for a little harder. I liked the first so much that I hung it in my room for many years, not intending to sell it at all. However, from years of selling art at conventions, I learned to make my minimum price something I would be okay with if no one else bid against them. If no one else bids, the current supporters will get these paintings.
I'm okay with that. Are you?
That's okay; maybe you are. But I don't offer my larger paintings for sale often. I rarely attend conventions of late, which is where my art was most readily available. If you've ever wanted a Danforth to hang in your house, this really is an opportunity to get something good for a very fair price.
BUYING TIME
And if you're a supporter of the dT&T Kickstarter, sale of these paintings buys me a little more time to concentrate on that (as opposed to standing on the street corner asking passersby for their spare change to feed the dogs!)
On that topic: we've been making good progress on the revisions. I've even come up for air long enough to start doodling the early stages of prep to paint the cover. If you're not an artist yourself, this will probably look like a scribble (at best). Doing even a rough value-sketch like this has proven to be one of the most important things for me in the preparatory stages of a painting. I've done several and, so far, this is the one I'm most inclined to pursue further. (The shaded version you saw on the Free RPG Day booklet was Steve Crompton's idea, because we needed SOMEthing on the booklet. I knew what I had in mind was different all along.)
Consider this a teaser of things yet to come.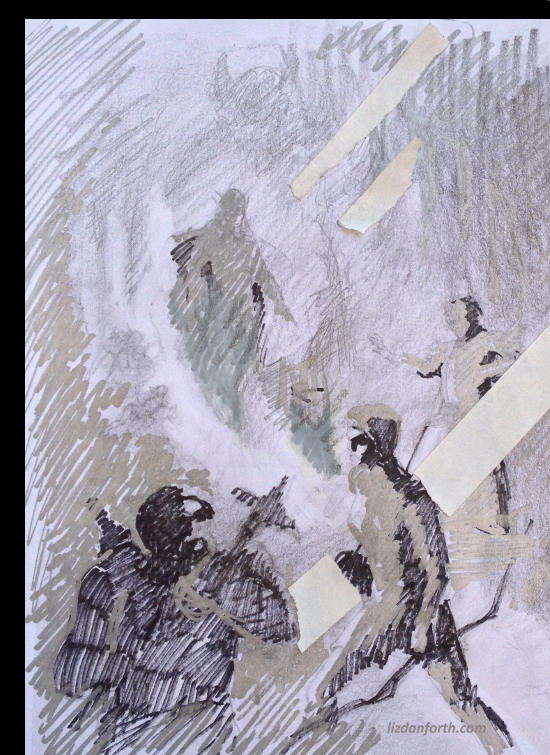 HOW TO BID HERE
If you want to bid on either one of the finished paintings — Elven Lords or Two Seconds Later —  send me a private email at etdanforth @ gmail.com (no spaces) with your best offer. I am going to end the auction Sunday night, midnight, MST, without further extensions.
In the Comments section to this post, I will let people know if there have been counteroffers.
You can, of course, still decide to pass. No bunnies will die. Really.