I have been planning on writing an occasional series of this sort since long before I decided to "reboot." This seems like a good way to start the wheels turning.
Pictures have stories. It's not just a reflection of the story they're telling or illustrating, but the stuff that's going on around the artist when she's making that particular piece.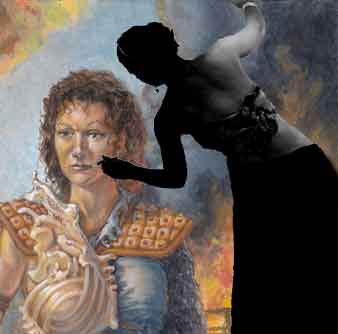 It's the mischievous mood she was in when she started sketching. It's the surreal idea cooked up with a 101º fever because hey, a deadline is a deadline. It's the conversation held about how to make a piece look more epic. It's the personal challenge the artist set out to achieve using this picture to make the attempt. It is the specific piece of photo reference. If the artist works from her own photographs, then that photo carries its own memories of time and place and associations, informing itself into the painting.

It's why a particular image comes to be made this way instead of any other way.
(And no, that's not my silhouette. I wish. I'm not even left-handed.)
STORY
Some of this falls under the heading of "provenance" in the Fine Art world, the history of a work of art. Usually that refers to its litany of previous owners, how the painting came to change hands and why. It's the story of what happened after the painting was born.
What I'm talking about are those things that existed before the painting or drawing ever came to be completed, but which had a part in the creation and completion of it. It's the ancestral genes and the act of love that caused those particular genes to recombine, making something new from parts that have been around virtually forever. It's the midwife and the mother, the father close at hand, and the old lady down the road who wove the bed linens, and the tinker who repaired the pot now boiling water for the birth.
My intent with this occasional series is to talk about pieces of my art and the stories that go with them. I have some doozies — funny, lame, poignant, and painful — but I have to start somewhere. I'm going to start with this one.
TARA
This is the card entitled "Tara" for the Warlord collectible card game back in 2002, when the game was being handled by Alderac Entertainment.
As I recall, I was asked for a hard-edged, capable woman coming from a culture where magically-manipulated bone served in place of plate armor. Metal was dear, available only in limited supply. Thus, her sword is metal and she has a sleeve's worth of light mail. There's a little metal there, but not much. For the large slabs of protective gear, some magician has gone to work molding ribs and parts of a pelvis, a sternum and the condyles of the humerus into armor: a half of a chest piece, and something to protect the wearer's own humerus.
WEIRD ARMOR
It's such a mismatched and incomplete selection of pieces to my present-day eye, I wonder if I was told there wasn't much of this kind of armor available either, or if the woman looted these few pieces from some foe who no longer required protection from anything but a hungry raven.
I itch to go in and add some big ol' pauldron to cover her shoulder. That's probably from looking at far too much armor crafted by Blizzard's artists in World of Warcraft, where shoulder pauldrons are ludicrously oversized. (Peripheral vision? Meh, who needs peripheral vision!) The wish to rework old pieces is something that gets my goat all too often. [MUST. RESIST.]
BONES ARE COOL
I remember having fun making up the bone armor, though. Much of my time at university, getting my bachelor's degree in Anthropology, was spent studying physical anthro. I handled a lot of bones, human and otherwise. I happily collect and keep interesting bones I find or buy: cow bones from a desert hike, the perfectly preserved lizard that trapped himself in the bottom of my huge copper kettle one summer, the gopher skull with the soft parts eaten away after a week or two atop my compost pile. My ex's idea of the perfect Christmas gift was an anatomically accurate 1/3rd size human skeletal model, and I appreciated it thoroughly.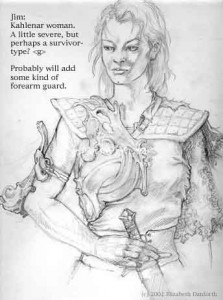 The sketch here shows you what I shared with the art director at AEG, the inimitable jim pinto. She's got some personality, I think, although quite different from the final painting. (That sometimes happens.) He gave his approval and I was ready to roll.
Well, almost ready. You'll note that there is no background to the sketch.
BACKGROUNDS
Backgrounds and I have a love-hate relationship. I have spent most of my art career working with clean graphical art and minimal backgrounds. Stylized lines frame a piece or suggest a setting, but mostly I leave out more than I put in. Creating a whole scene with foreground, middle ground, and background … well, it just does not come naturally.
Even in paintings, I sometimes create abstract shapes or suggest backgrounds without fully realizing them. Sadly enough, when I do try to make complex backgrounds, they sometimes overwhelm the main figures and confuse the eye. Keeping a simple background is an ongoing challenge for me, and some pictures work better than others.
I think this background works, and it represents the story behind this picture.
FIRE
On June 18, 2002, an arsonist started a wildfire in Arizona's Rim Country. He was trying to create some work for himself as a firefighter, and he succeeded. Three weeks passed before the Rodeo-Chedeski fire was fully contained. It consumed 468,638 acres, destroyed hundreds of homes, forced tens of thousands of people to evacuate, and cost over $43 million to control. I don't remember all that, but in this case I trust the Wikipedia entry to preserve the kind of facts that can easily be verified about the Rodeo-Chedeski fire.
What I do remember is that every time I stepped out my door — I was then living in Scottsdale — I smelled woodsmoke on the hot winds. The blazing summer sun burned through a perpetual haze. The fire was over 150 miles away, but the Rodeo-Chedeski was everpresent for those weeks: in every paper, on every TV news update, and even on the radio as I drove the freeway back and forth to my shifts at the library.
LOSS
I knew what was being lost. I used to be something of a hiker in my younger days, before my old ankle injury (I broke it while fencing saber) grew cantankerous enough to make tromping around the backwoods a dicey proposition. I knew the towns being evacuated. I'd trekked the Forest Service trails on any number of occasions.
I painted that sense of loss, drawing on the plethora of dreadful photographs I could not have escaped even if I had wanted to. That's no single photo of the fire but a mashup of many.
SHAPES IN THE SKY
The "halo" of open sky behind the woman's head seemed appropriate, as I selected how to compose the background: the window of hope that the sky might again be blue and clear again someday, or the fear that the columns of smoke would merge and obliterate the last of the sky's light in an inferno of destruction.
Shifting into the world I was illustrating, that oval shape also limned the purposeful woman and her heroic determination to survive in a devastated world. I don't know that I'd like her, should I happen to meet her in real life, but I would certainly find her someone to respect.
CURIOUSLY…
I don't know how she came to be named "Tara" by AEG. I was simply told she was Kalenar, or Khalenari — at least, those are the words I wrote on the sketch submission and on the back of the painting itself, which is labeled "Khalenari Survivor."
The card text suggests she is a Saboteur, and that in turn suggests that she perhaps is responsible for the devastation behind her. Irony of ironies, no?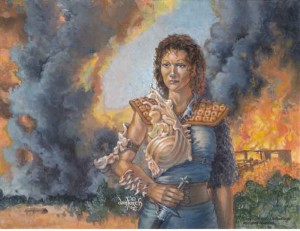 HERE'S THE PITCH
Having told you all I know about this painting, I'm going to offer it for sale here, through a kind of silent auction.
From now through Sunday, February 20th, 2011, at 11:59pm MST, email me with the price you're willing to pay for this painting. I will update comments to this post with the current high price (but no names attached). If you're bidding, you can decide whether or not to bid higher.
Bid by email and not in the comments, please. Feel free to use the comments to make any other observations as usual, or to ask questions.
Rest assured, I'm not going to do this every time I talk about a picture's history. Some of the best stories are for pictures that sold long ago, or are not for sale at all. However, this seems like a practical way to put a painting, along with the context of its particular history, into the hands of someone for a price agreeable to both buyer and seller.
SPECIFICS
The painting is acrylic on heavy 100# Strathmore illustration board, 9″ x 12″. You are purchasing ownership of the original piece of art but no reproduction or publication rights. It is unmatted and unframed, and will be shipped flat.
If the price comes in under $100, I'll ask you to pay all shipping and handling. Over $100, I'll pay up to $10 toward the s/h charges. Most of my paintings of this size and kind sell for more than $100 (most sell for quite a bit more!), but we'll see what kind of audience I have reading this blog. This might be a great time to get a bargain because I'm not going to set any minimum or reserve price. Whoever has emailed me the highest price as of the deadline will have a shiny new Danforth painting to call their own. I will accept Paypal or certified check.
Email me here: etdanforth | at | gmail | dot | com.
Good luck and happy bidding!