I keep being amazed how time flies when you're working your ass off. I have been. I've also been under the weather … not sick enough to be "ooooh, I'm soooo siiiickkkk" but feeling crappy enough to call in sick to work and stagger around the house thinking "Shouldn't I be trying to do something useful with myself?"
Meanwhile, several posts I've wanted to write have gone untouched or merely drafted. I will be playing catch up a little, over the next week.
THE STORY CONTINUES
The Feb 9th entry about the Tara painting (a.k.a. the Khalenari Survivor) was about the story associated with the painting's creation. Quoghmyre (The Southern Most Troll) did eventually win the silent auction for the painting.
I found him an extremely nice fellow to correspond with, he and his wife both. Because he hailed from New Zealand and came to the auction via Ken St Andre's Trollhalla community, I found myself mulling over how strangely and strongly connected the web-linked world has become. As Friedman explains, the world really is flat.
Then the world got even flatter. Even smaller.
SO SMALL, SO FRAGILE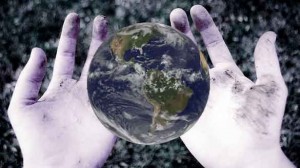 On Feb 22nd, the morning after I told Quogh he'd won the painting, I spotted the first commentaries on Twitter about the horrific earthquake with its epicenter near Christchurch, New Zealand. "Damn," I thought, "that's terrible."
Then I did a double-take, because in the blink of an eye, the world had suddenly shrunk. "OMG, how close is Quogh to Christchurch!?" I had his shipping address and was able to look it up on Google Maps.
My heart sank. He was closer to the epicenter of that quake than I was to the fire which had so much impact on me that I had worked its images into the very painting he had bought.
DISASTEROUS PROVENANCE
This is really adding to "provenance" now! I hope the fire and earthquake are the last natural (or man-made) disasters ever associated with that painting. I'd feel damn weird if it turns out he has acquired the Hope Diamond of Danforth paintings, cursed to carry destruction and devastation everywhere it goes.
Quogh told me that he and those close to him came through the quake safely, although one of his family was glad to have taken a late lunch away from his offices in the heart of the Christchurch central business district. I was glad to hear that. Maybe I can't say "all is well" — clearly it was the most devastating event in their recent history — but I am grateful that the connection forged here was not broken as swiftly as it had formed.
Quogh tells me he received the painting and seems pretty pleased with it. That makes me happy too. I'll offer another painting, another time — but next time I will choose one with a less disastrous backstory.