The first card I painted for publication was sometime in the mid-to-late 1970s, long before collectible card games like Magic: the Gathering were a twinkle is someone's eye. Bruce Pelz saw something he liked in the fannish art I was showing at regional fan conventions, and asked me to contribute to the Fantasy Showcase Tarot Deck. It took him eleven years to put the deck together, and it remains a unique bit of fannish history that I'm strangely proud to be part of.
CCGs: Collectible Card Games
It was the mid-90s that saw the explosion of collectible card games, with the rise of Magic: the Gathering and the many related games that followed soon after. Although I had been working in the game industry for a good fifteen years before the first deck of Magic rolled off the presses, the enormous popularity and originality of the game changed the industry. I was somewhat recognized for the work I had done prior to the rise of the card games, but no one would line up around the building for my autograph until after I joined the legions of talented, capable artists put to work painting hundreds if not thousands (tens of thousands?) of individual works for the publishers to put on their cards.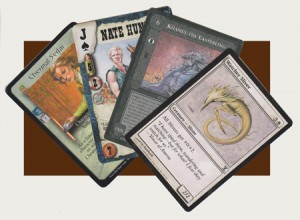 The Card List is now up and as complete as I can make it, for now. I know there are cards I'm missing off the list, and I made note of a few… in some cases, I'm just thinking "Didn't I do something else for this?"
GEN-CON INDY
I will be at GenCon next week in Indianapolis, and I am happy to sign cards for people. If it wasn't for the players who cared enough to buy the game in the first place, I (and many others) would have had much less reason to paint as much as we did. I am grateful for the chance to have done so much and the best way I can say Thank You is by making myself available to sign cards for you at conventions like this. You will be able to find me at the Namaste Entertainment (Booth 1643) or at Flying Buffalo (Booth 501 … not 810 as I posted initially!).
If you are a collector interested in the artist-proof whitebacks, I will have a handful with me to sell: $2.50 each, or 5 for $10. [Prices subject to change over time.]