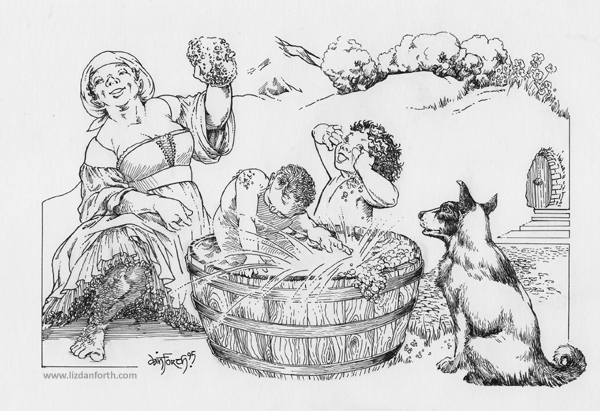 AS YOU MAY have seen, my site has been going through some changes. Some have been intentional; some … not so much. Gazimoff of Mana Obscura has remained steadfastly helpful, scrubbing away hacks and formatting content, despite numerous demands on his time. His efforts have been truly heroic.
IMPORTANT!
If you dropped me a line in the last week or two, to the email address that was on my Contact Me page (liz|at|lizdanforth|dot|com), I probably didn't get it. You might have gotten a bounce-back, or you might not have. As we've made server changes and such, that address is (at least for now) in limbo. I can send mail from it — I'm still recognized as a sender — but not receive mail sent to it. I'm putting it to one side until I get things figured out, and not using it to send or receive.
For now, please use the newly updated address that I have on the Contact Me page.
BUT WAIT, THERE'S MORE
Gaz's hard work has put into my hands something I've wanted on this site for ages — a way for you to opt into getting my posts as an email in your Inbox. You'll find the form off to the right where it says "Subscribe via email."
The RSS feed moved, but is still available — look down toward of the bottom of the navigation column, under "Meta."
You'll see the main art gallery is … actually, you can't see it. I'm looking into other ways to show my work. I was never happy with what was there before, and always meant to "get around to" updating and fixing it. The other changes in progress here give me the perfect opportunity. It will probably take a little time, though.
My "Newer Works" images are still intact, though. I added a couple of the fun Château Bison pictures I've just finished, so have a look. (That's Buffalo Castle, French edition.) And check out Patrice's website for updates on its release!
Those of you who commissioned portrait pieces for the book — I'll be in touch shortly. Promise.
Bear with me as I make my way through the fog of confusion. We'll get things adjusted, tweaked, and fixed up around here as soon as possible. This site has needed an overhaul for awhile, and while I am mainly focusing on a private commission right now, I'll also be putting in time here. Fun times! Sign up above and you'll hear all about it.
(And yeah, this is another Château Bison picture. I had a ball doing these!)