ONE YEAR AGO I wrote about "Rebooting the Freelancer." It was a first step to revitalizing this website, and a benchmark in a process of renovating my entire life that had begun several months previously. Committing to these changes, in public? It was a little scary, yeah.
I'm glad I did, and in retrospect I see it as one of the key steps on the path I've travelled this year. Year's end is a time of rumination, looking back and then forward — thus the title of this post.
THE MADERA MANIFESTO
When things began, I wasn't deliberately setting out to make big changes. I knew some changes were needed but life is always about change. I didn't see it as anything more than that.
I'd been going through a stressful period, and a friend recommended I take a vacation. I checked into a little casita (think "studio apartment") in southern Arizona's Madera Canyon for four days and three nights.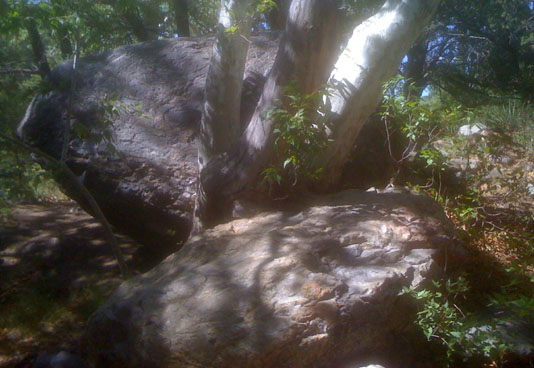 Madera Canyon is out in the boonies, the canyon itself so narrow that I had no cell phone service, no Internet, no TV. I could do any damn thing I wanted except connect with the outside world. I hadn't planned to be quite so isolated, but that's how it worked out.
When not catching up on my sleep, I spent most of the time writing on my laptop (no problem having electricity) with a sidebar of sketching. The last evening, as my steak sputtered on the little Weber grill on the porch, I found myself musing about how I'd spent these few days doing exactly what I pleased, those things I loved to do most. Writing. Drawing. MAKING. I started putting my thoughts down on paper, and when I was done there were three pages about what made my heart soar — and what did not.
Eventually I gave the document a name — the Madera Manifesto. It really didn't have any action steps but I had reached a clear understanding about what — not to sound pompous — gave my life meaning.
FINDING THE TRAIL
I understood what I wanted, but it took longer to learn how to start making things happen.
One of the best tools turned out to be Laura Vanderkam's book 168 Hours, which I wrote about in It's a Question of Time. Knowing how I had been spending my days, in detail, I could make realistic plans to change how I used my time so it reflected the principles I had identified in the Manifesto and on my 100 Things list, a related document suggested by Vanderkam's book.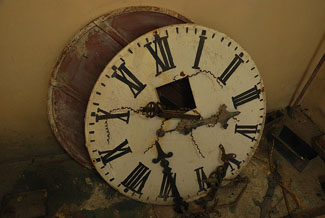 I continue to struggle with the fact that, despite the author's assertion that "you have more time than you think," this ongoing exercise has shown that I have much less time than I think. I'm not going to ignore or outsource feeding the dogs or taking showers, and I still work part time with the library. I see friends, I game (less than in the past), and I acquired concrete evidence that adequate sleep is as important to my creative productivity as oxygen.
Conversely, things I thought I could do quickly take twice as long as I expect. Start some laundry? Ten minutes, and that's if the dogs don't assume I really meant to play with them awhile first. A small drawing? I think I can do it in twenty minutes, except I look up and find an hour has passed. A quick email? There is no such thing in my world, apparently. I budget my time, but sometimes things just don't stay bound to my expectations, and then something else has to compensate. A week has only 168 hours.
I do what I can with what time is left.
WALKING THE WALK
A year ago, despite the bravado of the Reboot post, I had no idea if I could really pull things off. Yet I can look back and see many changes I set out to make came to pass, or at least that I moved them forward.
Freelancing is front and center once again. I've been doing art and idea-slinging for Namaste's Storybricks, and that's pretty damn exciting. They've just announced that the skeletal version of the toolkit — the first beta, in other words — will go live in February.
I've done several rounds of art for Marc Miller's new Traveller, and in the latest part of that project, I'll again be collaborating with Steve Crompton. He's the one responsible for the magnificent colorizing on some of my black-and-white inkwork, and we're making a color plate for Marc that should be a blast.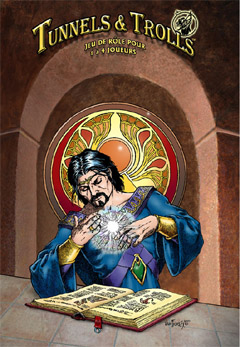 Steve is right now putting together a really gorgeous edition of that French translation of T&T I've talked about before now, and I almost wish we were re-doing the English language edition as well.
He also talked me out of an old favorite piece of art for the anthology related to "The City of the Gods" project he's been involved in. The picture will be illustrating a story about Circe written by M. Scott Verne and Wynn Mercere, the original authors of the novel.
The personal front has seen changes as well, downsizing inside and out. I've dropped 30 pounds since early summer, and made inroads into divesting myself of excess "stuff" that I've dragged from house to house over the last couple of decades. Some of that "downsizing" has been painful, losing both my oldest dogs in the course of about five weeks. The new youngster in the house is working out pretty well, keeping me and my other dog on our toes.
With guidance and advice from a friend, I have been re-organizing my office and living quarters so that "being a Maker" is that much easier. It doesn't help to have matting and framing tools so buried and scattered that I spend as much time hunting for things I need to work with as I spend doing the work itself! And at the end of the month, I will wrap up my stint as the gaming guru for Library Journal after nearly three years. Not only have I accomplished much of what I originally hoped to do there, but I want to put that time to other purposes.
STUMBLING FORWARD
Certainly there's lots I've aimed to do and have not. I had intended to blog here weekly; that certainly hasn't worked out. There's still no sales cart and the gallery needs attention. The standalone novel hasn't moved past the still-thrashing-around stage, despite the hours I've put into it. My Google 20% for innovation is one of the first things that evaporates when I get time-stressed, but sometimes the paying work (or a good night's sleep) just has to come first.
But I am in a different place this year than I was this time last year. I'm more driven but calmer overall, paradoxically. More dedicated to what I am doing, even if I'm doing fewer different things than previously. Graphic novels and sculpture works are still on the "I want to make time for this" but not at the expense of things that matter even more, like having a little time with the dogs or starting a new series of paintings. I fully intend to keep moving forward now.
I ask myself a lot of questions these days, questions I never used to think about. "What is the future you want to create?" and "If you could make just one change today (this week, this year) — what would it be?" Sometimes it's that growing-into-a-cliché "What would you do if you knew you could not fail?" Like the Madera Manifesto and the 100 Things, my answers serve to keep me going in the right direction.
At the end of the day, though, the number one question I ask is "What did you make today?" Because that's what Makers do.