HEY THERE! Long time, with no updates getting written here? Sheesh*. But it's high darn time I say something about Grand Prix Las Vegas, since I'll be there in just a few days.
GRAND PRIX!
The last few months, I have been preparing for my first Magic the Gathering Grand Prix event. (Grand Prix Las Vegas, June 14-18.)

I'm excited and stressed in equal measure because I don't exactly know what I've gotten myself in for, despite generous advice and librarian-class research. I already know there's more I should have done that's not gonna happen before I leave town. It's… a learning experience.
Because of the Vegas Grand Prix, I expect some people will come to this blog who never set virtual foot here before. Let me give you some shortcuts for the things you might be looking for…
Caveat: the website overall is woefully out of date. The card list is current primarily because I haven't done new card art in years. Everything else? Hahahahaha! I have been working a lot, making new art and even going to shows like IlluxCon. Keeping up the website remains low on my priority list. For now, assume it's cobwebby.
HERE IS my Card List. I did cards for:
Magic the Gathering (Wizards of the Coast)
Middle Earth ccg (Iron Crown)
Legend of Five Rings (AEG)
Legend of the Burning Sands (AEG)
Shadowfist (Daedalus)
Deadlands (Pinnacle)
Vampire: the Eternal Struggle
7th Sea (AEG)
Wheel of Time (Precedence)
Battletech (FASA)
War Cry: Siege of Darkness (Sabertooth)
Wars (Decipher)
Warlord (AEG)
Dragon Storm (Black Dragon)
Xxxenophile (Palliard Press)
Everway (Wizards of the Coast)
AT THE SHOW
Look for me beside this sign.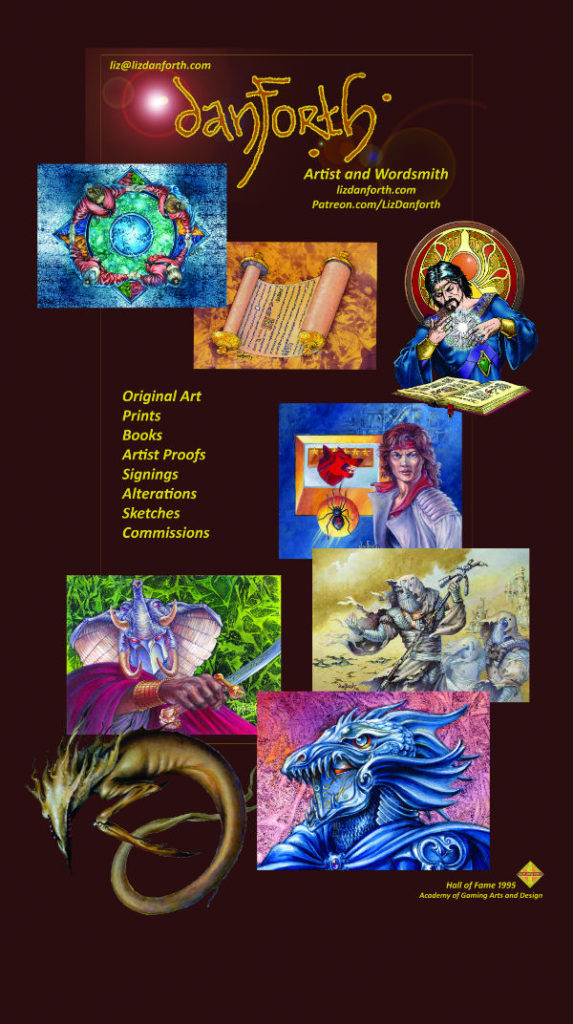 I'll be available for signatures, and I will do small sketches and minor card alterations. I may set up a sign-up system for sketches and alters, but I have to see how things flow. Bear with me, please.
Here's what I'll have available for sale:
Original art. I'm driving, which makes this easier.
Almost all MtG originals have been sold long since; I'll bring what I have. I am also bringing a selection of paintings and artwork for other games.
Prints. Some Magic, some not. Some larger (full press-run print runs, signed limited edition), some postcard-sized mini-prints.
APs, Tokens, and Pre-made Alters. It's a mixed bag of experiments, weirdness, and "hold my beer; what happens if I do this?"
Playmats. In partnership with Joshua Krause of Original Magic Art, I will have two playmats on offer: the official Hymn to Tourach image; and a reimagined rendering of the floor visible in that card, proportioned to playmat format.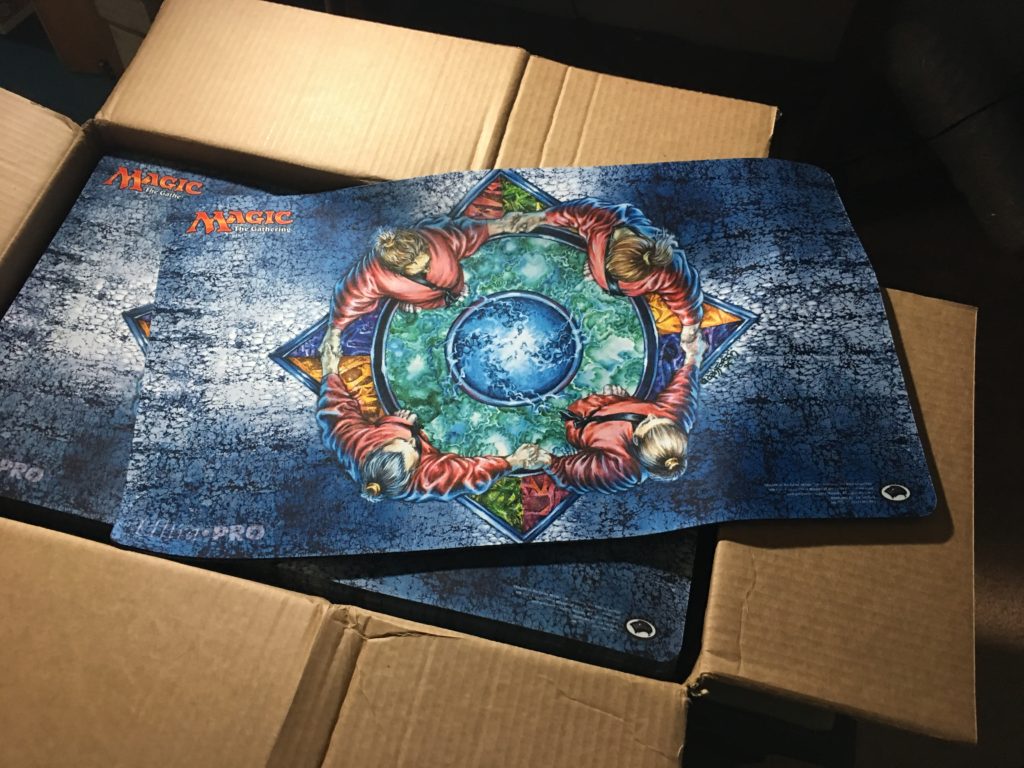 Books. I have a few copies of The Gathering in hardback and soft cover. I have copies of Deluxe Tunnels & Trolls.
One of a Kind Specialty Items I got into storage and found…
– Hymn to Tourach wristwatch. Doesn't work. Not sure it ever did but it's pretty cool!
– 1996 Magic the Gathering Calendar, in original wrap.
– Official WotC T-shirt with Quentin Hoover's Vesuvan Doppleganger, XL. Barely worn. SOLD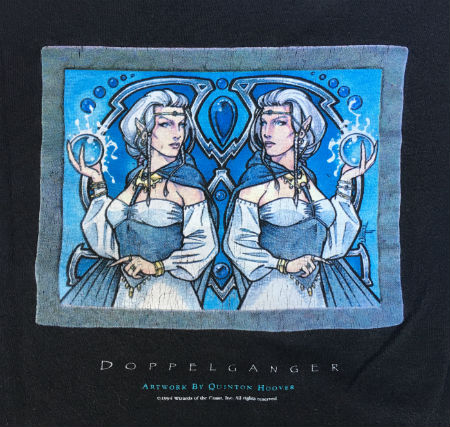 Not going to be in Vegas? Have questions about this, or anything? Drop me a line! Or, y'know, say something in the comments. That works too.

*Well, unless you caught that accidental "Publish" of a draft post. Sheesh twice over! **

**Excuses or reasons why I haven't been posting? Lately, my Patreon page gets a lot of the kind of attention I'd have put into writing blog posts. I should cross-post what isn't exclusive to my backers. (A lot is, but not everything.) But hey, I even made a video! [Link explains context, or just watch the fun below.]