HAPPY NEW YEAR.
January 1st is just another day on our Gregorian calendar, the arbitrary mark of a new year, but every culture that marks time … which is to say, pretty much all of them … considers their new year to be a time for reflection on the past and assessment of the future. Doesn't matter if it's Rosh Hashanah, Samhain, the inundation flooding of the Nile, or the year of the Monkey that is coming up next. Janus is a universal metaphor.
Here I write at the end of the day on January 1st, thinking of the past and the future. The cusp of the year won't let me go quite yet, so I'd like to natter at you a little bit. Then, maybe, I'll get on with the program that is going to be 2016.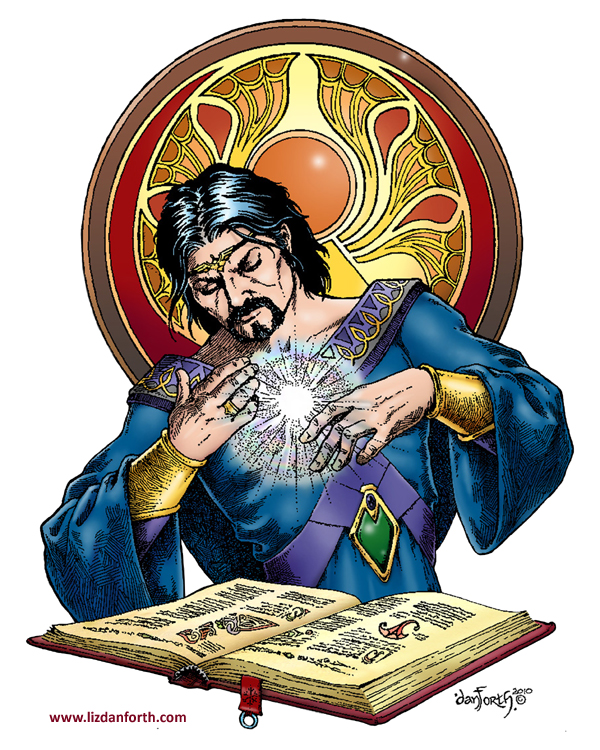 WHAT A YEAR IT WAS
I can't say "It was a very good year" about 2015 although, mostly, it was.
Deluxe Tunnels & Trolls was completed and released, and the fans have embraced it with a fervor I never  dreamed possible. I was determined to do the very best job I was capable of (no matter how long it took, and for which I took a lot of heat). But in such a big project, one never really knows how something is going to be received until it hits the streets.
Glowing reviews like this one from designer/writer Sarah Newton left me astonished and awed. And this. Or this. Or this. Or this. This reviewer called it the best tabletop fantasy RPG of 2015. And this German-language post seems particularly complimentary about my artwork in the game. (Thank you, Google Translate.) And I'm not even mentioning blogs delving into the mechanics of the game like adventurers going into the depths of an old-school dungeon crawl. Wow! Thank you all.
I had a lot of fine conversations and sold a lot of original art. I must particularly give a hat's off to a wonderful gentleman who now owns the single best collection of my Middle Earth Nazgul paintings anywhere in the world. Thank you, Christoph!
Late October, I went to IlluxCon in Allentown, PA and wrote about it once and then again. My manic drive has faltered in the face of exhaustion and holidays, but I'm still marching onward with revised work and fresh life habits largely intact. I'm still focused on Making Wonderful Things, and am looking very hard at ways to make that even better.
It's scary shit, frankly, leap of faith stuff, and I'm still not ready to talk about all of it for fear of jinxing things. Bear with me. You'll hear about it here first so why not subscribe to my erratic updates so you don't miss any? It's that little box there on the side. Yeah, that one. Don't fret; I'm not going to spam you with anything more than notices of when new posts go up.
For Christmas, I went to see The Force Awakens. I'll respect the widespread hue and cry to avoid spoilers, so there are none here about the movie's content. I will say only that my history with Star Wars is … complicated. Very, very complicated.
I wasn't sure I could bear to see the movie, honestly. Carrie Fisher's marvelous interview a few weeks before the movie opened gave me the nerve to go, and the physical and emotional maturity of the older stars' characters made it worthwhile on a surprisingly personal level. I can't say I came through unscathed, but it was worthwhile.
It's been weird and frankly uncomfortable to live a geek life cut off for the last fifteen years from one of the more influential and defining elements of pop culture. Seeing the movie sparked ruminations that are still pinging around, unearthing zombies of my past. Star Wars is, evidently, my mental shorthand for a great many conflated losses and changes not lightly discussed. I don't expect anyone else to understand, but that's why I say my history with the franchise is complicated. I'll be glad to have the negative aspects uncoupling in my mind from the franchise as a whole, and I can say that I'm looking forward to the movies yet to come.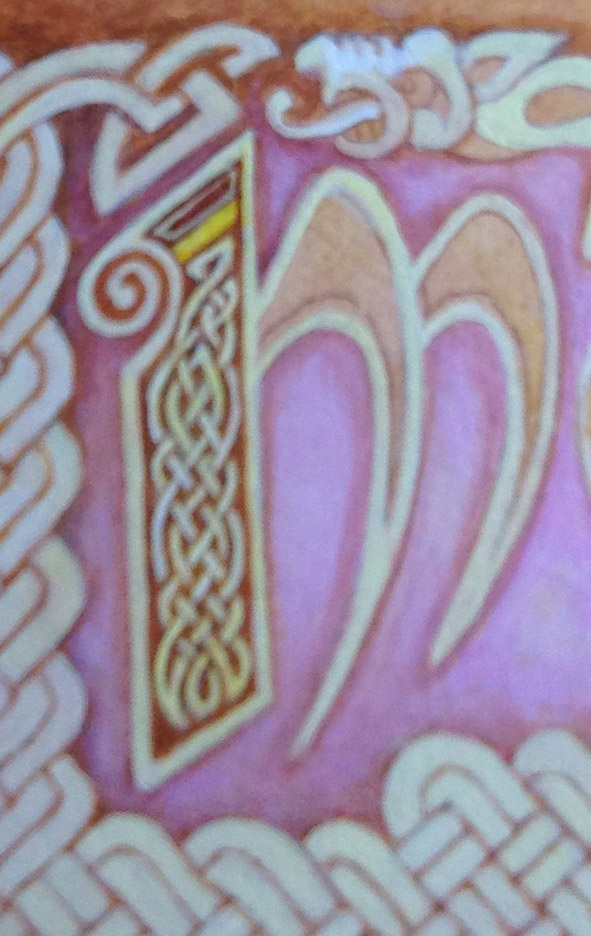 LIFE IN PROGRESS, WITH STORIES
My primary focus right now is painting like a crazy person on that long-overdue commission. This is a tiny segment of it. It's going very very slowly… that picture fills maybe five square inches of the rather large beechwood panel I'm painting on.
I am listening to a lot of audiobooks while I work. Derek Jacobi is one helluva narrator, and I think he could delight me just reading a phone book. Neil Gaiman, of course, reads his own works wonderfully, and I listened to The Graveyard Book again. Downloadable audiobooks from my library allowed me to revisit A Wrinkle in Time which wasn't quite the story I remembered but still exceptional, and I've got Alfred Molina queued up to read me the entire Iliad even as I write this.
I stumbled on a stinker or two. Why in hell is James Patterson a popular writer??? Oh my ghawds was that bad. I got about halfway through Witch and Warlock before becoming abysmally depressed that someone got paid actual money for something so horrifically, horribly, execrably, terribly, badly written [where's my thesaurus; I haven't totted up enough words for "gawdsawful" yet]. OMFG…. O. M. F. G.!!! A fifth grader writes better than this. Never have I seen [heard] so many cliches, characters that don't even rise to two-dimensional, spiderweb-thin plotting larded with deux ex machina conveniences, and tin-plated dialog that left me aghast that anyone put those words in that order. Elijah Wood as the male character's narrator wasn't half enough to save it.
I am reading many dead tree editions when I'm not painting. Right now, I am particularly engaged by the memoir by my cousin Catherine Onyemelukwe, Nigeria Revisited. It is a closeup view of foreign lands, both the countries in Africa that won her heart, and the equally alien world of the US in the 1960s, where an international mixed-race marriage merited a photospread in Life magazine and an article in the New York Times… and hatefully abusive, anonymous phonecalls to her parents, my aunt Mary and uncle Peter.
The book is published by the Peace Corp Writers, and I cannot recommend it highly enough. Cathy writes well and evocatively, and I think most people likely to be reading this blog have never been exposed to the engrossing world(s) she describes. Even me — I knew I had an older cousin whom my family said had married an Ibo (Igbo, more properly), and the Biafran civil war was something more important in my child's mind because of it, but I'm ashamed to realize how little I actually knew. I'm grateful for the opportunity to be learning more now; my bloodkin and I have never been close.
Catherine continues to work at making the world a little better, something she has spent her whole life doing. Read more at her own blog.
THE BEST IS YET TO COME
At least, I hope that is true.
Most of the past year, this is the image that graced my computer's desktop: Neil Gaiman's New Year's wishes from a year ago.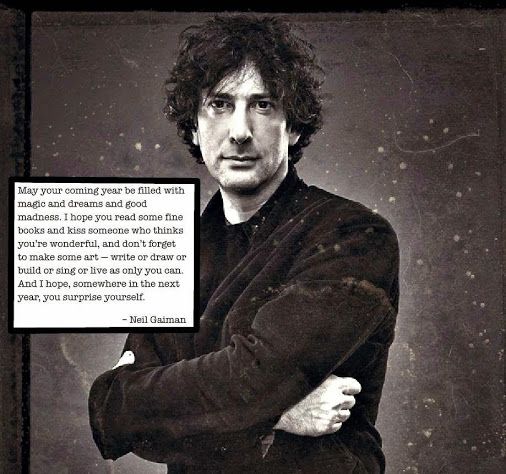 In part, I put it on my computer for inspiration and motivation. In part, it was wishful thinking tinged with a faintly cynical doubt. I might aspire to a few of those things, but felt I'd be lucky to enjoy even half. I was wrong. For all the difficulties of the past year, I was fortunate to realize every one of these. That alone is enough to have surprised me; I have surprised myself to recognize it.
I'm keeping this image on my desktop for awhile longer. The inspiration remains worth pursuing — perhaps even more this year than last. And a good madness is pretty damn amazing when it overtakes me. It has produced a well-received game, a lot of fine art, a story I have submitted for possible publication, and the determination to drive forward toward that whole "leap of faith" thing (and hope it doesn't run me down). I think 2016 is going to be an eventful and interesting year for me.
If Gaiman's wishes work for you — and I hope they do — may you realize each of these during 2016, and may they delight you.
My own wish for you is less eloquent, perhaps, but it is just this: that 2016 brings you everything you hope for and nothing you fear.