SOME COMMISSIONS ARE special.
Earlier this year, a nice spring morning brought me an exceptional email. The writer, Brian, introduced himself as a longtime fan of my work, someone who played Tunnels & Trolls from as far back as the fourth edition, and who even contributed a few snares into the Grimtooth's Traps books.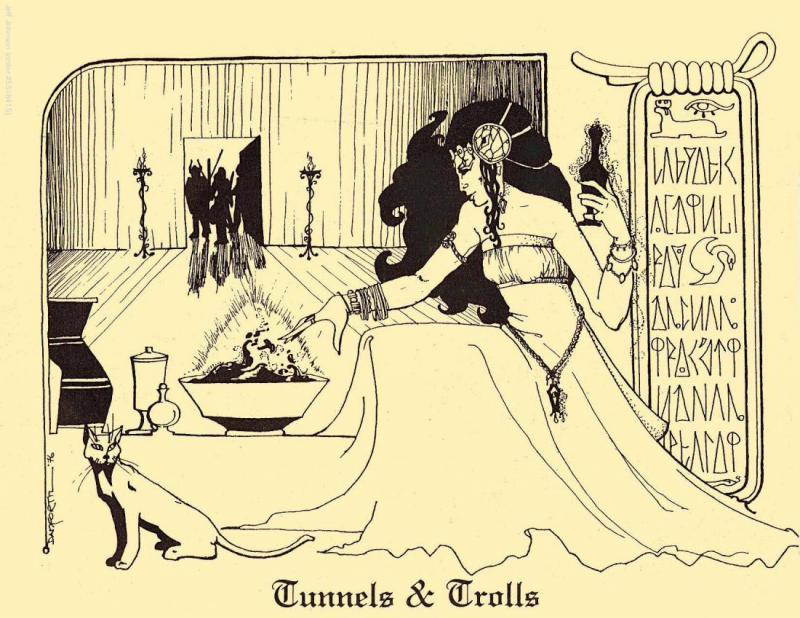 Brian wanted to know if I might create a picture as a gift for his friend—in fact, a gift for the fellow who'd introduced him to gaming back in 1977. It would be for his friend's upcoming 50th birthday. Was I interested?
No way…! I wasn't just interested, I was hooked. Tell me more, I said!
THE REQUEST
Brian wanted to commission a fantasy portrait of his friend—to respect his privacy, I'll just call him William. In a followup email, he sent a closeup photo of William and his son. I had complete artistic freedom, which is great but also daunting. Where would I start? I needed to get a sense of who this man was before I could even begin.
So I assigned Brian homework—the brainstorming prompts below. I didn't necessarily know what I would use from his answers, but I hoped it would give me enough substance to do more than just copy a snaphot.
BRAINSTORMING
This is some of Brian's homework:
— Do you want me to try for the look-and-feel of [William's own well-developed fantasy world used in his games and fiction]? Is he at heart a gruff warrior, a clever wizard, or a wily rogue? [Knowing Brian played T&T, I knew we'd be on the same page with that question.] Or one of the other commonly-depicted "types" of fantasy: merchant prince, king, or non-human … not because I would necessarily "copy" into that trope, but because it will lend a direction to the choice of how to depict him.
— Tell me about the things he loves outside of games… what he studied in school, perhaps; what books he reads fiction and non-fiction, the ones that stuck with him, that he talks about long after reading them. What types of movies does he enjoy most: action adventure, comedies, chick flicks, MST3K bad movie nights? If he wasn't making a living doing what he does, is there something else he would seriously pursue?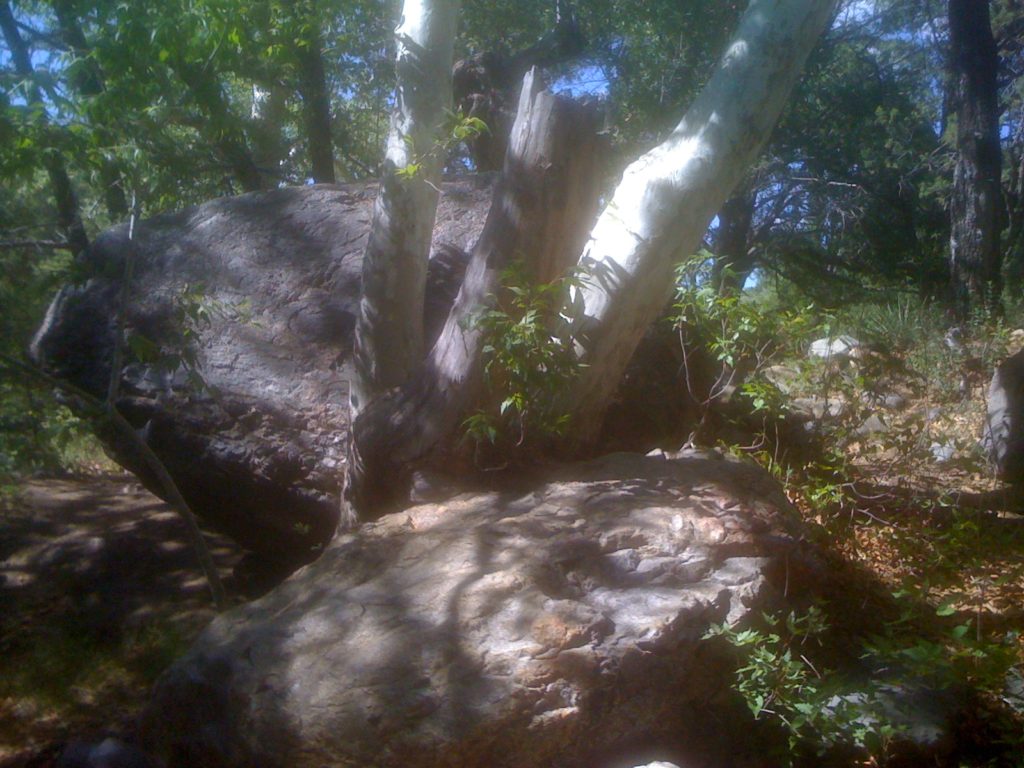 — Can you send me some more pictures to work with? I'm particularly interested in 3/4 views. Strangely-lit pieces are fine, even desirable—a flashbulb in the face flattens features terribly.
— Action piece or not? (Either answer has many possible "consequences" to what might show up in the final piece, and would be informed by some of your other answers.)
— Full body, partial body, or concentrate on head/face? Assume larger and/or more detail will be more costly.
— Are you looking for an accurate reflection of his appearance and age, or an idealized heroic version? I will probably slide at least a little toward the latter, but I once slightly insulted a beautiful and striking-looking older woman by drawing her as she was when she wanted to be a smashing (and young) space princess.
— Is the picture just him, or him with family? With others? Animals? A cityscape or other environment? Background hinted at or a full-blown scene? Or just a stylized graphical design?
— Finally: pick three words that encapsulate him in your mind. It would be awesome if you'd get his wife to do the same (not sharing your answers), and then the TWO of you pick the three from that list of six you most agree about.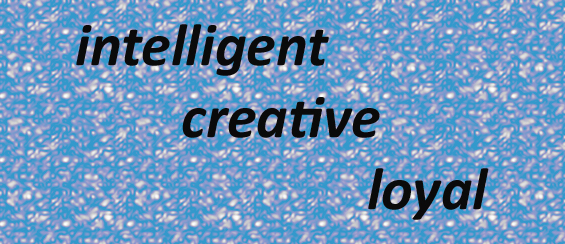 GETTING UNDERWAY
Brian was excited, and so was I.  Two other buddies got wind of it and wanted in; that meant we could do a bigger, more complex image. I found myself doodling ideas on my lunch hour, or while I was supposed to be working on something else. I had other deadlines to meet, and I was in the midst of leaving the library job. I kept watching the weeks tick away. That birthday deadline was iron-clad; I couldn't negotiate an extension or postpone it!
Two months after he first contacted me, I cleared my decks and started drawing. I couldn't wrangle the dragon-and-animals ideas that were mentioned, so I gave William's character a dragon-headed staff. I dodged a late-breaking question about his (modern) hairstyle by giving him a hooded cloak. I let the drawing itself define the size — it's what "felt" right at about 10″ x 7″ (25cm x 18cm).
Then I sent Brian the sketch for his approval.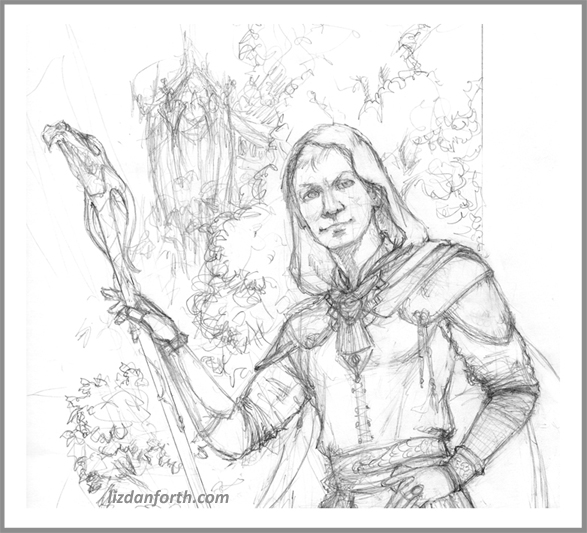 A HITCH IN THE PLAN
After his enthusiastic YES, the inkwork went quickly and I shipped out the original art on the last day of May, for two-day delivery by Thursday, June 2nd. I rarely get things done with much time to spare, and this was no exception: the birthday party would be Sunday, June 5th.
And then, with the package in limbo, there was… nothing. The USPS doesn't guarantee its two-day deliveries, but even three would've provided enough slack. We heard nothing for four days. Brian and I both started to freak out.
Then… from Brian's email: "On Saturday, the USPS website indicated that the package had arrived at my local Post Office so rather than waiting for delivery, I called the branch and they found the package and put it up front so that I could come down right away and get it."
THE PARTY
The birthday party was that Sunday.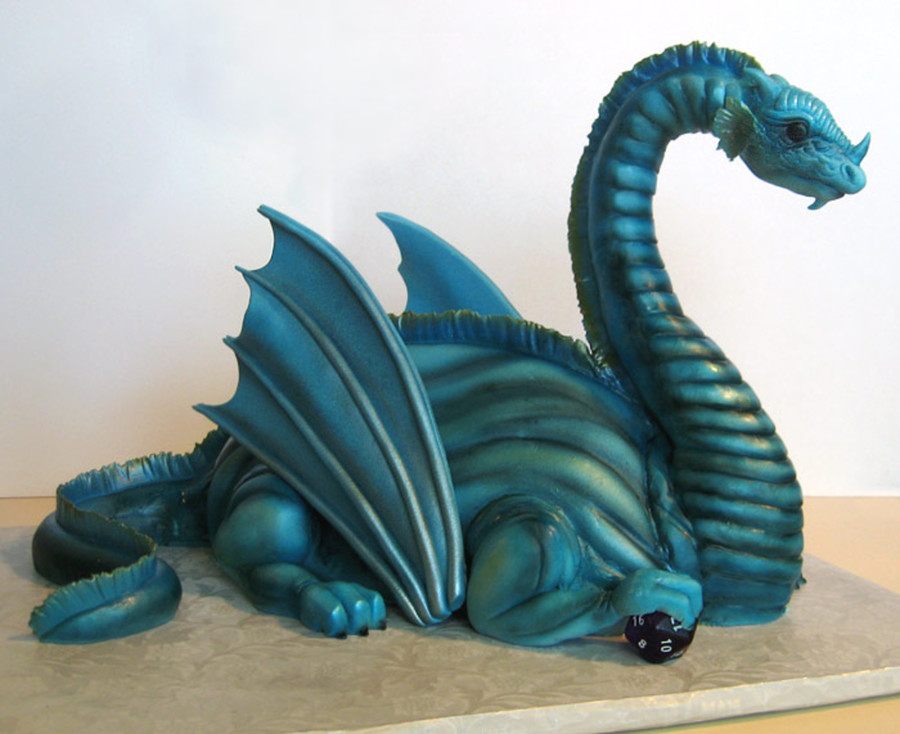 Around 45 people attended William's celebration of half a century spent spinning around the sun. William's wife declared the picture should be opened with everyone there, and so it was; it was the only gift opened at the event.
William was, in a word (Brian's word) thrilled. I understand a video of the unwrapping was done, and I hope to see it sometime. It would be so satisfying to see William's reaction for myself!
AFTERMATH
Even without a video to cap off the event for me personally, I am really grateful to have had a chance to do this picture. There was almost a magical feel, an enthusiasm for the bonds of friendship and respect for this man who—despite my question about "Do I make him look like himself or more heroic?"—looks naturally strong, proud, fit, intelligent, and quietly heroic in his own right. He doesn't have movie star looks, but I didn't have to stretch reality to make him into a more fantastical character. I just had to dress him in garb and settle him into a location reminscient of the world I glimpsed through a glass darkly via his web presence.
Have a look at the end result for yourself.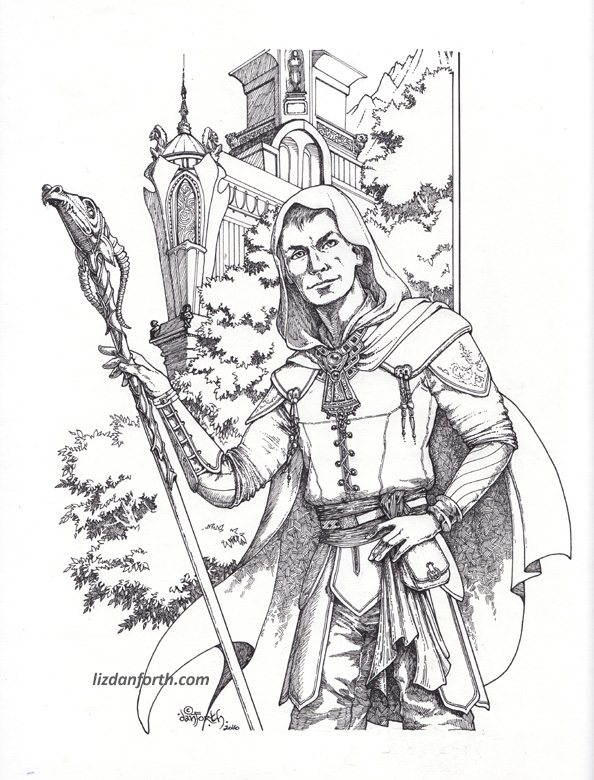 Brian made the whole process a pleasure from first to last. He was time-stressed with challenging life-in-progress matters while this was unfolding, but he was consistently upbeat, interesting to talk with, and responsive to my many odd questions and remarks. I didn't want to disappoint such a nice guy.
A TESTIMONIAL
As usual, I had other related topics I intended to write about (particularly the story about the Freyalise Supplicant card I did for Magic the Gathering, which is also a rather special fantasy portrait), but I'll save those stories for next time.
Brian offered me this (unsolicited) testimonial to put on the website. I had wanted to write a story about this commission anyway, so I'll wrap things up with what he had to say about this. (And it is from this that I heisted the title for this post too!)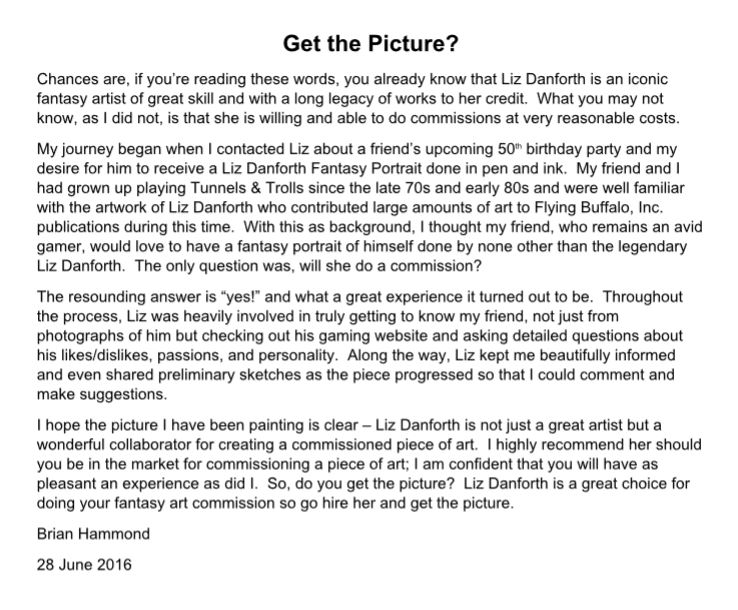 ABOUT BRIAN'S RECOMMENDATION…
If this story inspires you to want a piece of original work from me, I hope you will get in touch. We soldier on through the summer's heat (at least here in the northern hemisphere), but is it too early to be thinking about the winter holiday season? You've seen the process here, and that it can take a while. You've seen what a piece of personal art can mean to someone, as giver or recipient.
Black and white, color, small, large—we can talk about it. Prices vary according to size, medium, complexity. Works that are small and simple will start around $75, to multiple-$100s for an ink drawing like the above, and $800-1200 and on up for most paintings.
See below for a sampling of other fantasy portraits I've done (including the Freyalise Supplicant): finished pieces and rough sketches alike. Some were commissions and some were just accommodating friends who let me hijack their faces, their forms, and (sometimes) their dignity for a little while.
I look forward to hearing from you.

Save
Save
Save
Save
Save
Save
Save
Save
Save
Save
Save
Save
Save
Save
Save
Save
Save
Save
Save
Save
Save
Save